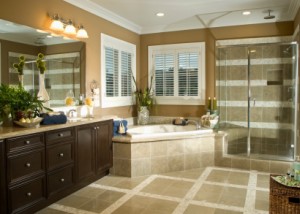 Bathroom Remodeling
We believe that your bathroom should not just serve its functional purpose, but also be a beautiful and relaxing place of retreat. Whether it is cozy and relaxing, sleek and modern, or ergonomic and functional, we are here to help you achieve your goals.
We here at Charlie Swain Plumbing, we take great pride in the quality of our remodeling services. From a simple faucet change to a complete home renovation, we are here to assist.
As the population is aging, you may be considering A comfort height toilet, lever style faucets and trim. Perhaps a hand held shower unit.
We even have a Selection of barrier free bathing units and showers That you can chose from.
We can come out to your home and discuss your options with you, assist in fixture selection, provide paperwork/ permits for this work, etc.
We are glad to Work with you, if you are performing your own work Or is you have a general contractor involved. Give a call today and start making your dream become Your reality.